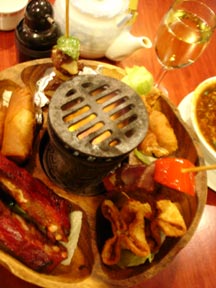 This past weekend, my 6-year-old son and I dined at our favorite local Chinese restaurant. Henry loves to eat there, mostly because he loves to order the flaming Pu Pu Platter. I don't know if he likes the food as much as he just likes to say the words "Pu Pu" to the waitress taking our order. Regardless, Golden Buddha was his choice.
After we'd gotten our fill -- actually way more than our fill -- we eagerly cracked open our fortune cookies as we always do. Whoever crafts the messages for those little slips of paper is a true clairvoyant. The advice just always seems to apply. But, with the Michigan Coast to Coast adventure race just a week away for Team Checkpoint Zero, this cookie's counsel was particularly on target. The message read: "You will recieve unexpected support over the next week. Accept it graciously."
Well, I didn't need to be reminded by the cookie that Team Checkpoint Zero's support crew does a truly remarkable job. But I could always say "thank you" more than I do. I'm sure every racer could.
Support crews get little to no sleep, tote team gear all around the race course, drive forever down unfamiliar roads with the team's precious supplies and, more than a few times, care for blistered body parts and so much more, all in an effort to keep the team moving forward. So, Scott, Jon, Michele and Paul want to say an advanced "thank you" to our Checkpoint Zero support crew for the Michigan Coast to Coast: Jon's wife, Diane; my wife, Lisa; and Henry.
You guys are the best! And the team promises to do as told -- and with a gracious spirit -- at every transition area.
The team is busily preparing for the Coast to Coast to be held May 29 - June 3. We'll post more updates here and a race report after we finish.
Paul Cox -- disher of the team Pu Pu